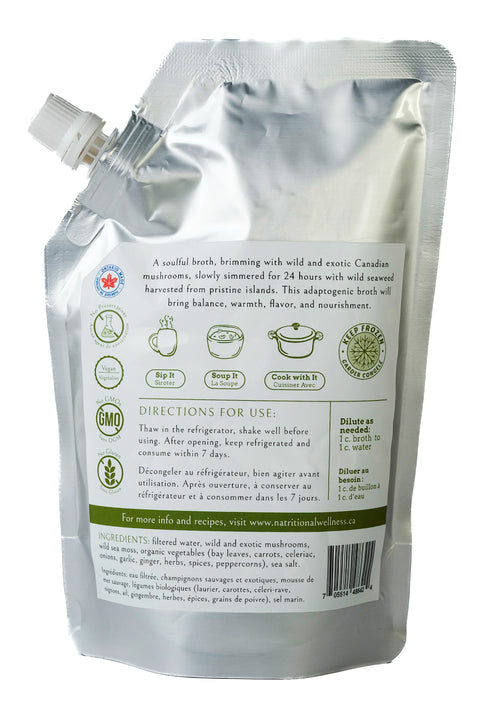 Natritional Wellness
Mushroom and Sea Broth (Local, Wild and Gourmet)
$15.00
$19.00
you save $4.00
Mushroom and Sea Broth (Local, Wild, and Gourmet), 500 ml (17 oz)
A soulful broth, brimming with wild and gourmet Canadian mushrooms, slowly simmered for 24 hours with wild sea vegetables harvested from pristine Islands. This adaptogenic broth will bring balance, warmth, flavor, and nourishment.
This vegan broth features a unique blend of over 20 wild, rare, and exotic mushroom varieties foraged and hand-picked from across Canada. 
Our broths are hand-crafted in small batches and then frozen to ensure ultimate freshness; our ingredients are always sourced locally from Ontario farmers who farm their lands following regenerative farming techniques. 
Note: This is a concentrated, full-bodied broth. One cup goes a long way. You can easily dilute as needed. 
Pasture-raised, Free-range (Grass)
All Natural I No Preservatives | No Additives | No MSG
Concentrated Broth - Dilution allowed
Gluten-free
No Added Hormones or Antibiotics
Ships Frozen
Nutritional information

Product Guidelines
Product Benefits
Checking local availability