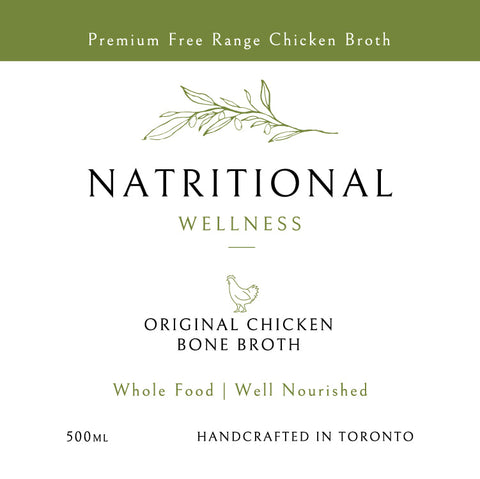 Natritional Wellness
Original Chicken Broth - Pastured, Free-range
Original Chicken Bone Broth - Pastured, Free-range, 500 ml (17 oz)
Handcrafted in small batches using carcasses from free-range Ontario poultry raised without antibiotics or added hormones. It has been thoughtfully slow-cooked for 24 hours, adopting a traditional family recipe with a rare blend of spices and local organic herbs known for their restorative and curative purposes. It is an excellent source of collagen and gelatin, which makes it abundant in protein and vital minerals needed for whole-body nourishment.
Note: This is a concentrated, full-bodied broth. One cup goes a long way. You can easily dilute as needed. 
Pasture-raised, Free-range (Grass)
All Natural I No Preservatives | No Additives | No MSG
Concentrated Broth - Dilution allowed
Gluten-free
No Added Hormones or Antibiotics
Ships Frozen
Nutritional information

Product Guidelines
Product Benefits
Checking local availability